The Tyrant's Daughter
by J.C. Carleson
From
Amazon
: THERE: In an unnamed Middle Eastern country, fifteen-year-old Laila has always lived like royalty. Her father is a dictator of sorts, though she knows him as King—just as his father was, and just as her little brother Bastien will be one day. Then everything changes: Laila's father is killed in a coup.
HERE: As war surges, Laila flees to a life of exile in the suburbs of Washington, D.C. Overnight she becomes a nobody. Even as she adjusts to a new school and new friends, she is haunted by the past. Was her father really a dictator like the American newspapers say? What was the cost of her family's privilege?
Far from feeling guilty, her mother is determined to regain their position of power. So she's engineering a power play—conspiring with CIA operatives and rebel factions to gain a foothold to the throne. Laila can't bear to stand still as yet another international crisis takes shape around her. But how can one girl stop a conflict that spans generations?
My Thoughts
: I enjoyed this more unique storyline aimed at younger readers. I also appreciated how Laila is still a relate-able and human character despite the very "hot topic" storyline. Overall I thought this book was "ok," I enjoyed the topic and the potential for discussion-starting but it didn't knock me off my feet. ** 1/2
Seige and Storm
by Leigh Bardugo
From
Amazon
: Darkness never dies.
Hunted across the True Sea, haunted by the lives she took on the Fold, Alina must try to make a life with Mal in an unfamiliar land, all while keeping her identity as the Sun Summoner a secret. But she can't outrun her past or her destiny for long.
The Darkling has emerged from the Shadow Fold with a terrifying new power and a dangerous plan that will test the very boundaries of the natural world. With the help of a notorious privateer, Alina returns to the country she abandoned, determined to fight the forces gathering against Ravka. But as her power grows, Alina slips deeper into the Darkling's game of forbidden magic, and farther away from Mal. Somehow, she will have to choose between her country, her power, and the love she always thought would guide her--or risk losing everything to the oncoming storm.
My Thoughts
: Meh. I heard such glowing recommendations of this series but I struggled to even finish this book, much less read more of the series. It's just ok... nothing really interested me at all about it. There were some really interesting elements to the story, but I never really connected to any characters or really cared about the outcome of their "oncoming storm." * 1/2
The Song of Achilles
by Madeline Miller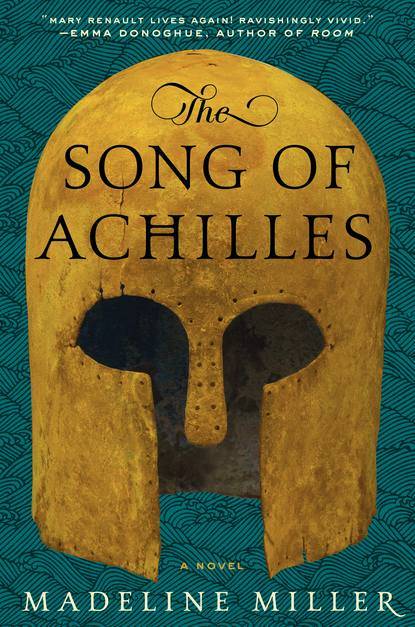 From
Amazon
: Betrayal, ardor, war, and prophecies--in
The Song of Achilles
, author Madeline Miller brings together everything I love about
The Iliad
without the labor of epic poetry. In this new twist on the Trojan War story, Patroclus and Achilles are the quintessential mismatched pair--a mortal underdog exiled in shame and a glorious demigod revered by all--but what would a novel of ancient Greece be without star-crossed love? Miller includes other good tragic bits--foreknowledge of death, ruthless choices that pit pride and reputation against the lives of innocents, the folly of men and gods--and through her beautiful writing my spine chilled in the presence of Achilles' mother, the sea goddess Thetis, and I became a bystander in the battlefield of Troy awash with blood, exaltation, and despair.
The Song of Achilles
infuses the essence of Homer with modern storytelling in a combination that is utterly absorbing and gratifying--I can't wait to see what Miller tackles next.
--Seira Wilson
My Thoughts
: LOVE. This novel was wonderful, heartbreaking, enthralling. I'm so glad I picked it up! I cried. High recommended. *****
Sirens and Other Daemon Lovers
ed. by Ellen Datlow and Terri Windling
From
Amazon
: A dangerously seductive collection of tales that—like the sirens themselves—are impossible to resist
Sensuality mingles with fantasy in this sultry anthology starring fairies, sphinxes, werewolves, and other beings by masterful storytellers including Joyce Carol Oates, Neil Gaiman, Jane Yolen, Ellen Kushner, and more.
Sirens and Other Daemon Lovers
features a vampire who falls in love with her human prey, an updated Red Riding Hood fantasy, an unsuspecting young man who innocently joins in seductive faerie revelry, and a cat goddess made human. Alluring and charismatic, this collection from master editors Ellen Datlow and Terri Windling will stimulate more than just your imagination
My Thoughts
: Short story collection including a Tanith Lee piece, so of course I had to read it. Not too bad, I don't really love more racy stories...but these all had such unusual twists that I ended up reading it cover to cover. Enjoyable, but certainly for older readers! ***